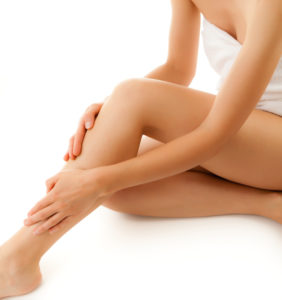 Laser hair removal treatments are designed to remove unwanted hair from virtually any part of the body. Concentrated laser light energy destroys the hair follicle so hair does not grow back. A series of treatments is needed to stop new hair from growing.
Why Laser Hair Removal?
Laser hair removal is ideal for patients who live busy lifestyles and those who want to maintain smooth, hair-free skin. Those who are tired of shaving and waxing regularly can turn to laser hair removal to get rid of unwanted hair on the legs, arms, underarms, chest, back, or virtually anywhere on the body.
Laser hair removal is a relatively painless in-office procedure that uses highly concentrated light energy directed into the hair follicles. Pigment in the follicles absorb the light, which in turn, destroys the hair completely. Eventually, the hair stops growing back entirely so there is no need to shave, wax, or use other hair removal products in the treated areas.
Getting Laser Hair Removal
Since hair growth occurs in cycles, not every hair follicle can be treated in a single treatment. This is why a series of treatments is needed. The hair must be of a certain length to be detectable by the laser device and the follicle must still be in the skin — no waxing is permitted during treatment or the laser will not be able to target the follicle.
Treatments are typically spaced about six weeks apart and appointments can be made around a patient's schedule. Patients typically start to notice their hair grows back lighter after each treatment and will not grow back at all in some areas. Multiple areas can be treated in a single session.
What to Expect with Laser Hair Removal
Results vary by patient but most patients achieve full results within a few months of consistent treatment. Since treatments must be spaced several weeks apart, it's important for patients to stick with the scheduled treatment plan and avoid waxing between treatments. Our laser technician will map out a detailed treatment plan during your consultation so you know exactly what to expect and how many appointments it will take to achieve results. There are no side effects but some redness may occur after treatment. This dissipates within few hours after the treatment session.
Patients who undergo laser hair removal are extremely satisfied with the result and often get multiple areas treated to remain hair-free. Maintenance treatments may be required after a few hair growth cycles and this varies by patient.
Find out if laser hair removal is right for you. Schedule your private consultation with Dr. Kilaru today.