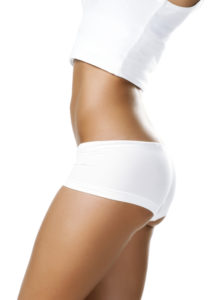 Whether you're bothered by a few extra inches around your waistline or you want your pre-baby body back, turn to Dr. Prasad Kilaru for customized body contouring procedures.
Dr. Kilaru uses the latest techniques and body contouring protocols to sculpt, shape, and tighten problem areas. He can prepare a customized treatment plan that will help you achieve your ideal figure.
LIPOSUCTION
A popular surgical procedure that removes fat permanently from problem areas, such as the hips, thighs, buttocks, and midsection. This plastic surgery procedure can be very effective for reducing inches and achieving a more contoured appearance. Learn more about liposuction.
TUMMY TUCK & MINI TUMMY TUCK
Women and men who want to tighten and flatten their midsection can undergo these procedures for permanent reshaping and contouring. A standard tummy tuck involves tightening the abdominal muscles along with removing excess fat and skin. These procedures can be very effective for creating a flatter stomach and contoured waistline. Learn more about the tummy tuck and mini tuck.
MOMMY MAKEOVER
Women who do not plan to become pregnant again can consider mommy makeover procedures to restore their pre-baby figure. These procedures include things to change the appearance of the breast, such as breast augmentation, breast lift or breast reduction surgery.  In addition, procedures like liposuction, and tummy tuck surgery will address changes over the abdomen and other areas affected with pregnancy and its consequences. Learn more about mommy makeovers.
POST BARIATRIC SURGERY
Patients who have lost significant weight with or without bariatric surgery and successfully kept the weight off for a period of time may need a skin tightening procedures to remove excess skin. Excess skin after extreme weight loss is common and can be difficult to hide. Dr. Kilaru can perform a circumferential body lift, thigh lift, arm lift, breast lift, and other plastic surgery procedures to create a more attractive silhouette. Learn more about post bariatric surgery.
ARM, THIGH & BUTT LIFT
Body contouring procedures, including circumferential body lift, arm lift, thigh lift, and buttock lift surgery, are designed to reshape and tighten the skin. Patients who have excess or sagging skin in these areas can achieve a tighter and more youthful appearance with these body contouring procedures. Learn more about the arm, thigh, and butt lift procedures.
Learn more about body contouring procedures available in Fremont, CA. Schedule your private consultation with Dr. Kilaru today.