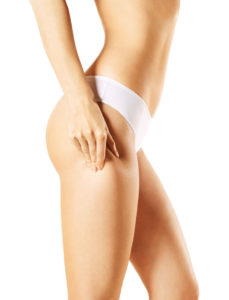 Body lift procedures, including the arm lift, thigh lift, and buttock lift, can reshape the problem area and tighten the skin. These procedures help to create a more contoured appearance by eliminating loose or sagging skin.
Why Undergo a Body Lift?
Women and men who are experiencing significant sagging of the skin after weight loss, cycles of weight gain and weight loss, or the natural aging process, can achieve a tighter and more toned appearance with a body lift procedure. Dr. Kilaru has extensive experience performing all types of body lift procedures and can help you achieve a streamlined silhouette by removing excess skin.
The body lift might be combined with other procedures, such as liposuction or fat grafting, to achieve the best possible result. Common types of body lift procedures include:
Arm Lift

Thigh Lift

Buttock Lift

Lower Body (or circumferential body) Lift
The Body Lift Procedure
All body lift procedures are performed under general anesthesia. If you are undergoing multiple procedures, Dr. Kilaru may space your surgeries several weeks or months apart, depending on the areas being treated. An incision is made to access the tissue and to remove excess skin. The skin is re-draped over the muscle and tissues before the treatment area is closed up with stitches. You may need to wear a compression garment for several weeks after surgery to ensure the tissues heal properly and to manage swelling.
With some procedures, the tissue is repositioned to create a more natural-looking result. Some buttock lift procedures may involve using fat to add volume to the upper part of the buttocks for a more rounded appearance.
Dr. Kilaru will go over the details of your procedure and what to expect from surgery during your consultation.
What to Expect with Body Lift Procedures
Maintaining a healthy weight is critical for maintaining results after a body lift. Weight gain, or cycles of weight gain and weight loss, will affect the results of the body lift because the skin will be stretched out or become loose once again. If fat was added, such as with a buttock augmentation procedure, any weight loss or weight fluctuations in the future will affect the final result.
Maintaining a healthy lifestyle and having realistic expectations about the outcomes of body lift procedures will help you achieve the best possible results. Dr. Kilaru will walk you through the process and is here for you every step of the way.
Find out if you're a candidate for an arm lift, thigh lift, butt lift, or other body lift procedures. Schedule your private consultation with Dr. Kilaru today.