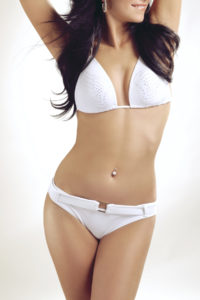 Women who are no longer planning to be pregnant can achieve a more youthful figure after their pregnancies with a mommy makeover. A series of simultaneous or staged procedures can help restore more youthful-looking breasts, tighten the midsection, and create a more attractive silhouette.
Why Get a Mommy Makeover?
Multiple or sometimes even one pregnancy can stretch out the skin significantly and cause drastic changes to your body shape.  Mommy makeover procedures address many common problem areas after pregnancy to help patients achieve their pre-baby bodies months after giving birth. Most mothers are good candidates for plastic surgery about six months after giving birth and/or breastfeeding.
Loose skin, drooping breasts, sagging thighs and buttocks, and wrinkles and lines that are more pronounced after childbirth can all be restored with mommy makeover procedures. Dr. Kilaru has extensive experience performing a series of simultaneous or staged procedures for patients and can create a customized treatment plan that will help you get your pre-pregnancy figure back. Many women enjoy more self-confidence after getting their mommy makeover.
Mommy Makeover Procedures
Every patient has different needs so your mommy makeover package may consist of two or more customized treatments. Almost all mommy makeover procedures are performed under general anesthesia. You will be given detailed post-op instructions to ensure you heal and recover properly from each procedure.
Common mommy makeover procedures include:
Breast Augmentation
Breast Reduction
Breast Lift
Tummy Tuck
Mini Tummy Tuck
Thigh Lift
Body Lift
Arm Lift
Facial Fillers
Facial Implants
Your procedures may be spaced several weeks or months apart, depending on the type of surgery, to ensure optimal recovery. Some procedures can be performed on the same day or may be performed on separate days. Dr. Kilaru will prepare a staged treatment plan so that you can get the full results you want as soon as possible but without compromising your health.
What to Expect with a Mommy Makeover
Since the mommy makeover involves two or more procedures, you will need to wait several weeks and months between procedures to recover completely. Dr. Kilaru and his staff will be monitoring you throughout the post-operative phase to make sure you are ready for another procedure. We take all necessary steps to reduce the risk of a slow recovery and less than optimal results so you may be advised to wait a few months before having surgery on another area.Maintaining a healthy weight and healthy lifestyle after plastic surgery is essential for recovering quickly and for maintaining results.It's important for patients to have realistic expectations with any cosmetic plastic surgery procedure, especially when undergoing multiple procedures over the course of a few months or years. Our Patient Care Coordinator and Dr. Kilaru are here for you every step of the way.
Find out if a mommy makeover can help you achieve your goals. Schedule your private consultation with Dr. Kilaru today.