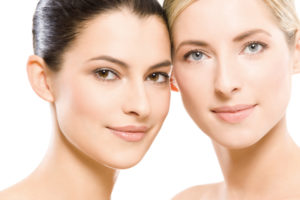 Facial implants are designed to create a more defined and sculpted look in the lower face. They are typically inserted in the chin, cheeks, and jaw areas to add structure to the face and are an alternative to injectable fillers.
Why Get Facial Implants?
Patients who want to enhance their facial features permanently may consider getting facial implants. Unlike injectable fillers that create volume but disappear within a few months or years, facial implants help to achieve a sculpted and contoured look permanently. They are made out of synthetic materials, such as silicone, that are easily assimilated into the tissue and create a very natural, contoured look.
Facial implants can be especially effective for creating a balanced appearance and creating a more aesthetically pleasing look. Dr. Kilaru customizes this procedure for each patient to achieve the best possible outcome.
The Facial Implant Procedure
Chin, cheek, and jaw implant placement requires using special techniques and are usually performed under local or general anesthesia. Dr. Kilaru will need to make a small incision within the mouth, around the upper lip, or right on the lower lids to create an opening to place the implant.
The implant can then be inserted into a small pocket inside the facial tissue so it is completely undetectable. The area is closed with sutures and bandages may be applied to help the tissue settle. Healing and recovery from this procedure varies by patient but most patients can return to work within one to two weeks. Complete healing typically occurs within 6 to 12 weeks but most patients notice a difference almost immediately.
What to Expect with Facial Implants
You can expect to enjoy visible results immediately and progressive results as the swelling and bruising subsides. Most patients experience a temporary restriction of facial movements and must avoid making excessive facial expressions, yawning, or opening the mouth wide for long periods of time while the tissues are healing. Dr. Kilaru will provide specific post-op instructions to ensure optimal healing.
If you're not getting the results you want with injectable fillers or are looking for a permanent facial contouring solution, facial implants may be right for you. Find out if you're a good candidate for facial implants. Schedule your private consultation with Dr. Kilaru today.