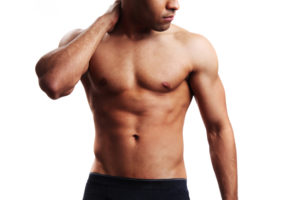 Men who want to improve their appearance can undergo male plastic surgery procedures that target certain problem areas. Men who are self-conscious about their chest, excess fat around their waist, or those who have lost a significant amount of weight, can undergo surgical procedures that reshape and contour their body.
Dr. Kilaru works with both male and female patients at his practice and has helped countless patients achieve their aesthetic and cosmetic goals. He will create a customized treatment plan that will provide optimal results. Male plastic surgery procedures include:
MALE BREAST REDUCTION
Men who have developed breasts because of hormonal imbalances or genetics can undergo a breast reduction procedure to achieve a more sculpted chest. This procedure typically involves liposuction and tissue removal. Learn more about male breast reduction.